Blue Meth Throne Dock
'The Ultimate Charging station'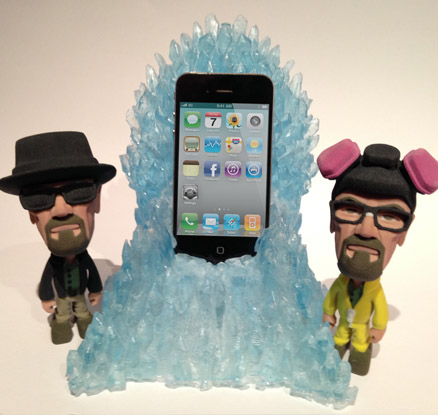 Product Blue Meth Throne Dock
Materials Clear Plastic with Blue Tint
Dimensions mm H 195 mm, W 163 mm, D 173 mm
Dimensions in H 7.67 in, W 6.42 in, D 6.81 in
Blue Meth Throne Dock gallery
iPhone/Android Docking Station
Original Price $69.99
Online Sale $59.99

Description: Inspired by our love of throne docks and crystal meth, and a tribute to the world's most favorite meth dealer, this mobile charging station is a truly original piece of fan art. This dock is compatible with most mobile devices, allowing it to fully charge as it sits atop a regal throne of beautiful translucent blue meth crystals.
Originally modeled and constructed through our nuPROTO rapid prototyping process and 3D printing technology, the final Blue Meth Throne Dock is cast from acrylic plastic. The acrylic of each throne is mixed and poured by hand, so the final hue of the blue translucency varies each time. The color may vary, but it still remains the purest product on the market!
The dock is designed for compatibility with any of the most common charging cables on the market, including iPhone and Android devices.
Dimensions: H 7.67 in, W 6.42 in, D 6.81 in
High quality materials and construction
Dock is compatible with most mobile chargers
Manufactured in USA
We create a limited number of thrones per batch, so get yours quick!